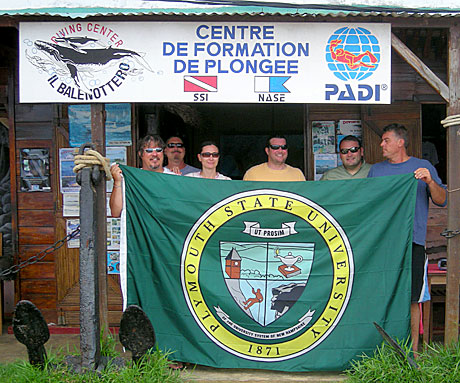 Meet The Team
Richard "Dick" Swete
Founder of the Serapis Project
The late Richard Swete, historian and nautical archaeologist, established the Serapis Project. John Paul Jones and his ships fascinated Mr. Swete even as a young boy. His lifelong goal was for all of Jones' ships to be found and archeologically investigated. Over the years, because of his interests and abilities, Mr. Swete was an active team member on more archaeological shipwreck projects than anyone else in the world. His work ethic under duress, observational abilities, and perception are legendary to those involved in the field of nautical archaeology. In addition to his experience in the field, he held a Master's Degree in Nautical Archaeology from Texas A&M University and he was PhD candidate at the College of William and Mary. He retired from the U.S. Army with the rank of captain and a veteran of the Vietnam War. After fulfilling his dream of finding the SERAPIS, Richard Swete died while working on the Serapis Project in 2000. He is survived by his wife, Sharon, children Rich and Erin Swete, Amy and Dave Pruett, Lynn and Jeff Blazy, seven grandchildren, his mother June Swete and many siblings, nieces and nephews.
Michael Tuttle
Board of Directors - Project Director
Michael Tuttle holds a B.A. in history from the State University of New York at Buffalo, an M.A. in history from the University of Maine, and a Masters of Literature in maritime studies from the Scottish Institute of Maritime Studies at St. Andrews University, Scotland. He is currently working on a PhD in American history at the Pennsylvania State University. He has over a decade of experience as a field maritime archaeologist and obtained a wide range of experience in such varied areas as the Great Lakes, the Atlantic seaboard, New England coastal rivers, the Gulf Coast, Western Rivers, and the Caribbean and the Pacific, as well as historic wreck sites in Scotland, the Netherlands and the Channel Islands in Europe, and Madagascar and Ghana in Africa. He has participated in well over 100 archaeological projects since beginning his professional career in 1995. Mr. Tuttle is certified and a member of the Register of Professional Archaeologists (ROPA 1999).
mct154@psu.edu
(814) 777-0134
The Late Dr. David Switzer
Former Executive Director of the Serapis Project
Gave Dick Swete the opportunity to have his first hands-on nautical archaeological experience as a field school student at the Defence site in Penobscot Bay, Maine. Later he and Dick worked together on a underwater site in New Hampshire and at the Falkland Islands where Dick's underwater engineering experience was a major factor in the recovery of the bow of the clipper ship Snow Squall. When the Serapis project was in its early stages, Switzer, then a department chair and professor of history at Plymouth State University, made the arrangements for the Institute for New Hampshire Studies at the university to become the Project fiscal agent. Although partially retired after 39 years of teaching history, Switzer continued as the Consulting Nautical Archaeologist for New Hampshire. In addition to co-authoring Snow Squall: The Last American Clipper Ship, he published numerous articles and contributed book chapters. As Executive Director, Switzer acted in an advisory capacity and oversaw the fiscal aspects of the project.
Amy and Dave Pruett
Secretary, Board of Directors
Amy is the daughter of Richard Swete, the founder of the Serapis Project. After Mr. Swete's death, Amy and her husband Dave took on active roles to ensure the continuation of the Serapis Project. Amy is the Secretary of the Serapis Project Board of Directors. For Amy this project is like "coming home" after growing up surrounded by archaeologists and historians. Mr. Swete continues to teach!
aswete@SerapisProject.org
805-995-3518
Dr. Jean Aime Rakotoarisoa
Director of Instituut de Civilisations /Musee d'art et d'Archeology of the University of Antananarivo - Emeritus
Dr. Jean Aime Rakotoarisoa is the liaison between the Serapis Project through the University of New Hampshire studies and the University of Antananarivo. Without Dr. Rakotoarisoa the Serapis Project would not have been possible. Since its inception Dr. Rakotoarisoa has been the knowledgeable guide and leader of the Serapis Project in Madagascar.
Dr. Chantal Radimilahy
Director of Instituut de Civilisations /Musee d'art et d' Archeology of the University of Antananarivo
Dr. Radimilahy is an integral part of the Serapis Project. She has been a part of the project since the beginning. She was invited by the Cotsen Institute of Archaeology at UCLA to speak about the findings of the Serapis Project in April 2000. Dr. Radimilahy is a senior lecturer in Archaeology at the University in Madagascar. In addition, she works full time at the University Museum, undertaking archaeological research in many parts of the islands, and ensures the preservation of the archaeological collection. Dr. Radimilahy has bachelors in history and a master's degree in Archaeology from University of Madagascar. Also she holds a Ph. D in archaeology from Uppsala University in Sweden where she concentrated in her research about an ancient Swahili town in Northwestern Madagascar. In Paris Sorbonne, Dr. Radimilahy, prepared a Doctoral thesis about ancient iron metallurgy in Madagascar.
Richard "Kelly" Bumpass
Maritime Archaeologist / Diver
Kelly is A.B.T. from the program in maritime history and archaeology from East Carolina University, and holds a B.A. in anthropology from Texas A&M University. His thesis topic focuses on the archaeological investigations of the Stonewall wreck off Bermuda. He is also seasonally employed by Southern Oceans Archaeological Research (SOAR) St. Augustine, Florida and a contract archaeologist for Tidewater Archaeological Research of Washington, North Carolina, as well as Panamerican Consultants of Memphis Tennessee. Mr. Bumpass has experience on numerous underwater sites in the Africa, Caribbean and the U.S. East Coast. Due to his experience and knowledge in the field. Currently he is writing his masters thesis in preparation for its submittal.
Jason Burns
Project Archaeologist
Mr. Burns is a Project Manager and Principal Investigator with Southeastern Archaeological Research, Inc. Maritime Division. Jason is a US Navy veteran with two professional book publications in the Springer Series of Underwater Archaeology. In 2003, Mr. Burns became the first underwater archaeologist hired by the Georgia Department of Natural Resources (DNR). He created a statewide program for underwater archaeology and was promoted to the position of Deputy State Archaeologist - Underwater. Mr. Burns' professional career has focused on submerged cultural resources management and public education.
Norine Carroll
Archaeological Diver & Conservation Specialist
Ms. Norine Carroll will act as an archaeological diver, in addition to serving as a conservation specialist for the project. Ms. Carroll holds a MA in Museum Studies with a specialty in object conservation from the State University of New York at F.I.T. Ms. Carroll is equally at home on land, or beneath the sea. Her many skills as an archaeologist have enabled her to work on every facet of both maritime and terrestrial archaeological projects along the eastern seaboard of United States, as well as in the Caribbean, Asia and the Near East. She has worked as a freelance conservator, museum consultant, archivist, and field archaeologist, since 1992. Her position as conservator at The Smithsonian Institution's National Museum of Natural History and The National Museum of the American Indian exposed her to archaeological and ethnographic collections from across the world, with a special focus on the Americas. Norine is currently honored to hold the position of Collections Manager/Research Associate at The Archaeology Institute at the University of West Florida (UWF) in Pensacola, Florida. There she is managing the numerous archaeological collections that UWF has excavated from both maritime and terrestrial archaeology sites from the Gulf Coast Region of the United States as well the state of Georgia.
Michael Krivor
Dive Supervisor/ Maritime Archaeologist
Mr. Krivor received his M.A. in Maritime History and Nautical Archaeology at East Carolina University in 1998. The subject of his thesis was the 1993 excavation of an 18th-century British merchantman off the northwest reef of Bermuda. Mr. Krivor also holds a B.A. from Humboldt State University in Aquatic Archaeology. He has extensive experience in maritime archaeology and submerged cultural resource management with a strong background in remote sensing and historic ship construction. Remote-sensing specialization's include comprehensive work with magnetometers, side scan sonar and Differential Global Positioning Systems (DGPS). Certified by the Register of Professional Archaeologists (ROPA) since 1999, Mr. Krivor has authored over 65 reports and has presented sixteen papers at professional regional and international conferences. Mr. Krivor is currently the Maritime Project Manager for Southeastern Archaeological Research, Inc. (SEARCH) of Jonesville, Florida.
Justin McNesky
Dive Instructor
Mr. McNesky has been a dive instructor for over 16 years, holding multiple dive instructor certifications including, rebreather, mixed gas blending, extended range diving and advanced rescue techniques. With these qualifications, Mr. McNesky has certified over 900 divers, including government agency rescue teams. Mr. McNesky received his BA in anthropology, with a concentration in archaeology from Eckerd College, St Petersburg Florida. Since that time, he has worked on numerous archaeological projects throughout the United States, Central America and the Caribbean. Mr. McNesky is currently the senior diver/archaeologist for Southeastern Archaeological Research (SEARCH) located in Jonesville Florida.
Prichard Smith
Film Maker
Prichard Smith is a documentary filmmaker. He was an associate and friend of Mr. Swete who enlisted Mr. Smith's service to document the Serapis Project for fundraising purposes, using both new video footage and footage provided from previous visits to Madagascar. After Mr. Swete's death Mr. Smith began an innovative filmmaking effort, aimed at creating public interest and support for the completion of the project that had been one of Dick's lifelong dreams. The result is an on-going documentary film, still titled The Serapis Project, which details Dick's career, his efforts toward finding the H.M.S Serapis, and his untimely death. The film has been supported entirely by Mr. Smith's personal funds, modest private donations, and the generous gifts of services by interested parties.
Smith studied at The University of Memphis, where he received a B.A. in communications. In 2001 his short documentary films Two Hundred Dollars on E-bay and Serapis Project, tied for first place in the Memphis Independent Film Festival. Now living in Brooklyn, he co-founded GO Pictures with Steve Loff. Most recent works include co-producing "Eviction," a short doc that premiered this past summer at the 9th Annual Brooklyn International Film Festival, and co-directing "Mr.Fascination," a feature-length doc currently in post-production.